Migrate to Australia
Australia is a strong and well developed economy and is one of the best countries in the world to live. Australians have access to quality education that is highly regarded all over the world. Australia also has excellent health care systems in place. It has very low crime rates and is a land of many opportunities. Australia is both a continent and a country with many attractions like the beaches, deserts, mountain ranges and reefs. The weather is also pleasant most of the year round.

Australia is a politically stable country and fosters multiculturalism. All these advantages make Australia one of the best countries to migrate to.
The General Skilled Migration (GSM) Program is the only path for skilled workers to emigrate to Australia. Candidates must meet the Basic Requirements for GSM and pass the Australian immigration Points Test to qualify for a visa to move to Australia.
For more information on how to move to Australia, please select the category that most closely resembles your current circumstances, or visit the corresponding Online Assessment to see if you qualify.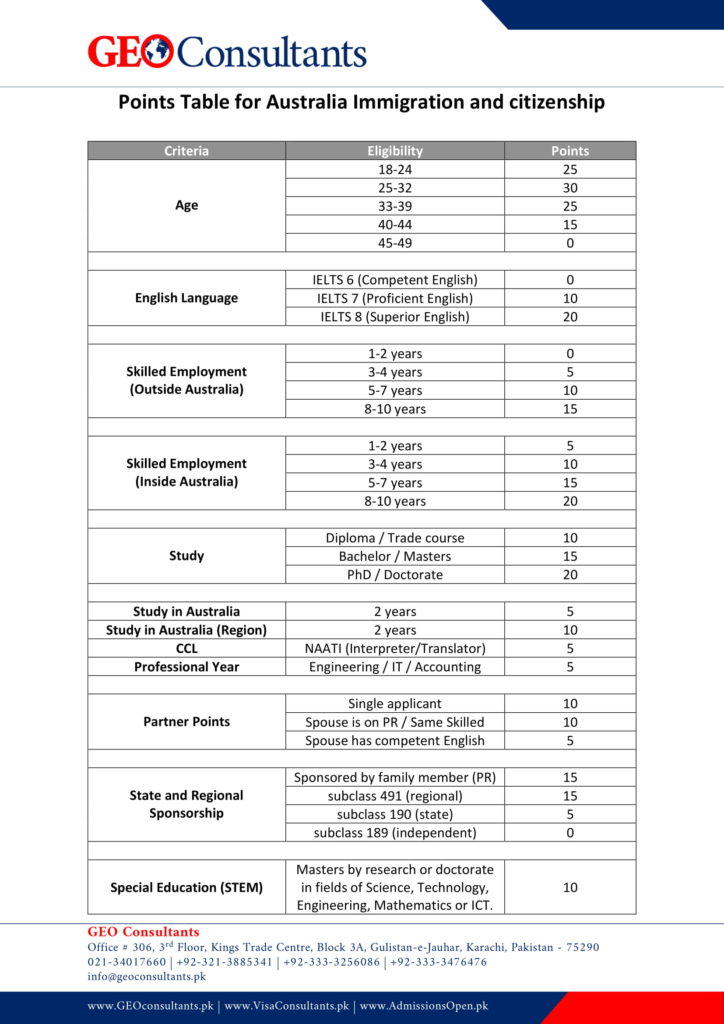 The requirements for an Australia Skilled Visa are as follows:
Age – you must be under 45 when you apply;
English language – you should have sufficient ability in the English language to work in Australia (at least at a competent level);
Nominated occupation – when you apply you nominate a skilled occupation, which fits your skills and qualifications. This occupation must be found on the Medium and Long-term Strategic Skills List;
Skills assessment – before you apply, you must have your skills assessed by the Australian assessing authority designated to assess your nominated occupation (which will usually have specific qualifications requirements);
Health assessment – you should be of reasonably good health and all applicants must have their health assessed by a panel doctor and undergo a medical examination; and
Character assessment – you should be of good character and this too will be assessed.
If you are unable to meet the new visa Basic Requirements and pass the Points Test, then you should not continue with a General Skilled Migration to Australia application.
Australian Skilled Visa Categories
SKILLED – INDEPENDENT VISA
The Skilled – Independent Visa (subclass 189) is the most popular skilled migration category is geared to skilled workers who are in high demand and do not require a state or family sponsor.
Stay in Australia Permanently
You must be invited to apply
You don't need a sponsor or nominator
SKILLED – NOMINATED VISA
The Skilled – Nominated Visa (subclass 190) is a category for skilled applicants looking to emigrate to Australia who are sponsored by an Australian State or Territory.
Stay in Australia Permanently

travel to and from Australia as many times as you want, while the visa is valid

 
Skilled Work Regional (Provisional) visa (subclass 491)
Highly skilled visa applications who have the necessary education and qualifications can qualify for a Skilled – Regional Visa if they are willing to settle in specific states and territories.
Stay in Australia for 5 years
live, work and study in a designated regional area of Australia
travel to and from Australia as many times as you want, while the visa is valid